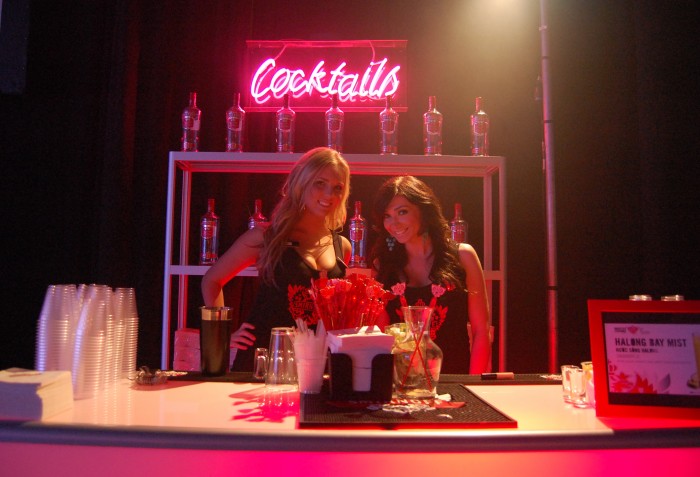 The Smirnoff Nightlife Exchange Project is a one-of-a-kind global experience in which countries pair up to "swap" the best aspects of their local nightlife (music, art, food and more). The latest installment in the nightlife exchange series had Vancouver (Canada) turn their historic SALT building (located in the Olympic Village) into a Saturday night in Vietnam. Those in attendance were free to enjoy the many activites which included (but were not limited to) Vietnamese food and deserts, free arcade games, karaoke, souvenir booths, dance stations and live entertainment.
Headlining DJ's A-Trak (Montreal) and DJ Jase (Saigon) made sure to keep everybody movin' throughout the night. The invite-only event was so popular, that despite the terrible weather, many had continued to line up around the building; with a few even turning to twitter to get updates on what was going on inside the building (a live Twitter feed was being broadcasted throughout the night on televisions).
In their pursuit to exchange cultures, lifestyles and celebration, Smirnoff has struck liquid gold once again.
The production value was "freakin' amazing", the drink cocktails (all Vietnam themed) were super tasty and the giveaways were definitely on point (especially the limited edition ATRAK Smirnoff cozy speakers). If the music and the entertainment were not enough, there were even complimentary bicycle shuttles from the metro to the Smirnoff venue and vehicles after the event to take those who wanted to keep partying safely to Vancouver's entertainment district.
Here are a few Snapshots from the event:
Photos by: A*maze & Josh Pablo